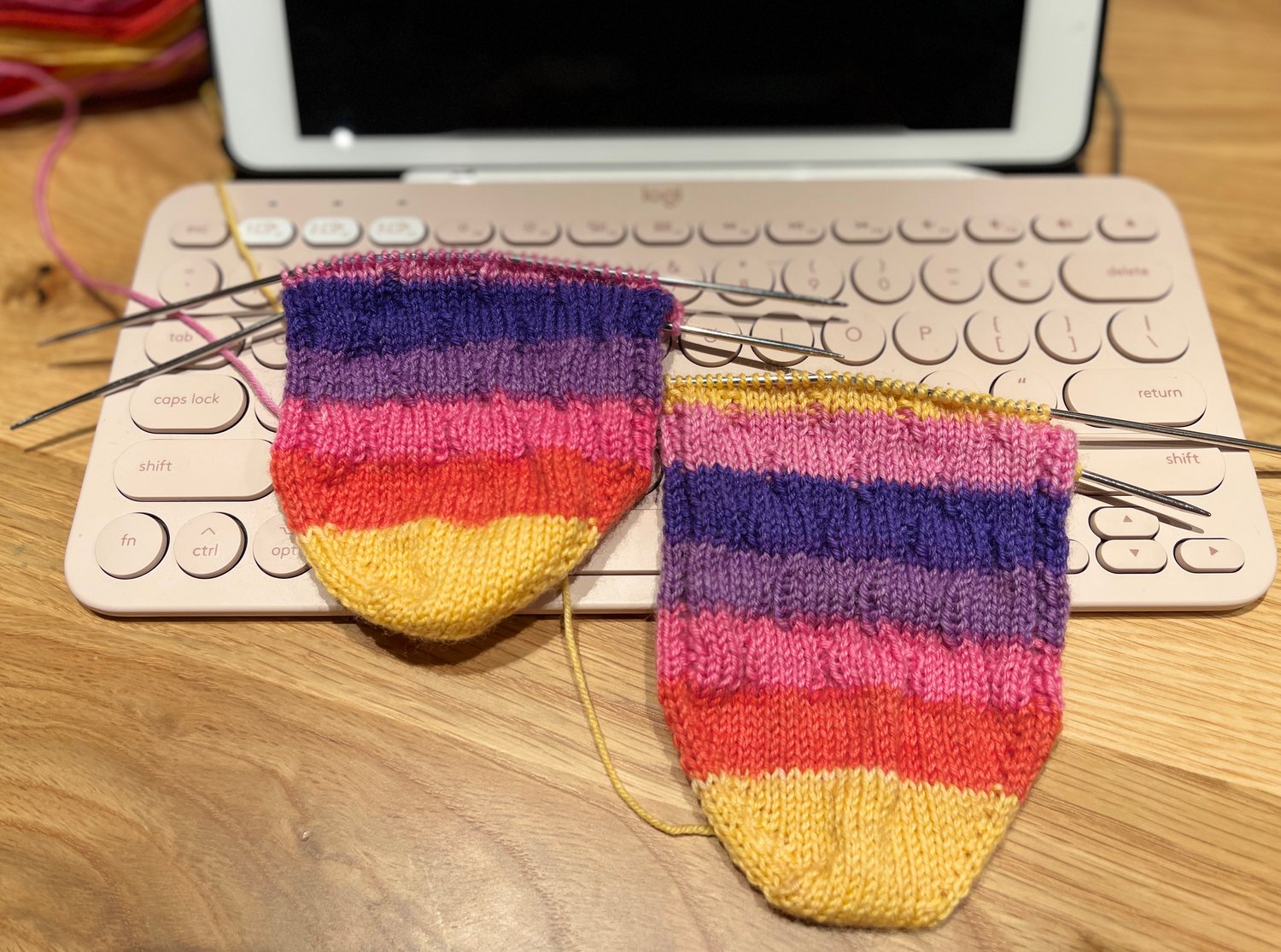 Winter Solstice Socks
$6.00
The Winter Solstice is a time when the earth's axis tilts away from the sun and makes it the shortest day and longest night of the year. It's the end of Fall and the beginning of Winter for the Northern Hemisphere. I try to look on the bright side of a lot of things in life. For me, it means we start to get an extra minute of daylight each day. That single minute grows to 10 minutes more, 30 minutes more, an hour more, and then suddenly it's almost Spring and the time of renewal and out of darkness
The Winter Solstice socks feature an easy to memorize repeat which shows little Earths at the equilibrium of daylight. I love the texture these tiny Earths create which adds just enough interest to semi-solid, solid, tonal, and lightly speckled yarns. The German short row heel makes the pattern easy for beginner sock knitters and adds a new skill to your sock knitting toolbox. You can substitute in a normal short-row heel or Fish Lips Kiss Heel here as well (separate paid pattern, but fantastic and highly recommended). There is an optional back chart that carries over the Earths to the back of the sock if you would like to add a higher degree of difficulty.
Important Note:
The B charts are sideways on each page!
Gauge:
8 stitches/inch using US 1 (2.25mm circular needles).
Sizing:
1 (2, 3) - which fits around a foot circumference of 8 (9, 10) inches around.*
Yarn:
This pattern calls for Knit Picks Stroll (2 balls 50g each) which is a slightly heavy piled fingering weight yarn. It's 80% wool 20% nylon yarn.
A good substitution would be another sock yarn with a nice twist like Lana Grossa Meilenweit 100 Merino or Regia 4-ply (solid colors or tweed so you're able to see the texture).
You will ideally want 100 grams of sock yarn. I have a size 9.5-10 foot and I normally use 60-70 grams for my feet. If you have larger feet or if you have a larger foot/ankle circumference you may need all of the 100 grams.
Materials:
US 1 (2.25) circular knitting needles (or size needed to get gauge), I recommend at least 32 inches (my preferred length). You can substitute DPNs and 9-inch circulars for circulars as well and I'll show you how.
100 grams of fingering weight sock yarn.
Stitch marker or locking stitch marker (optional).
Ruler or measuring tape.
Darning needle.
Sock blockers to photograph your socks once you're done! (optional).