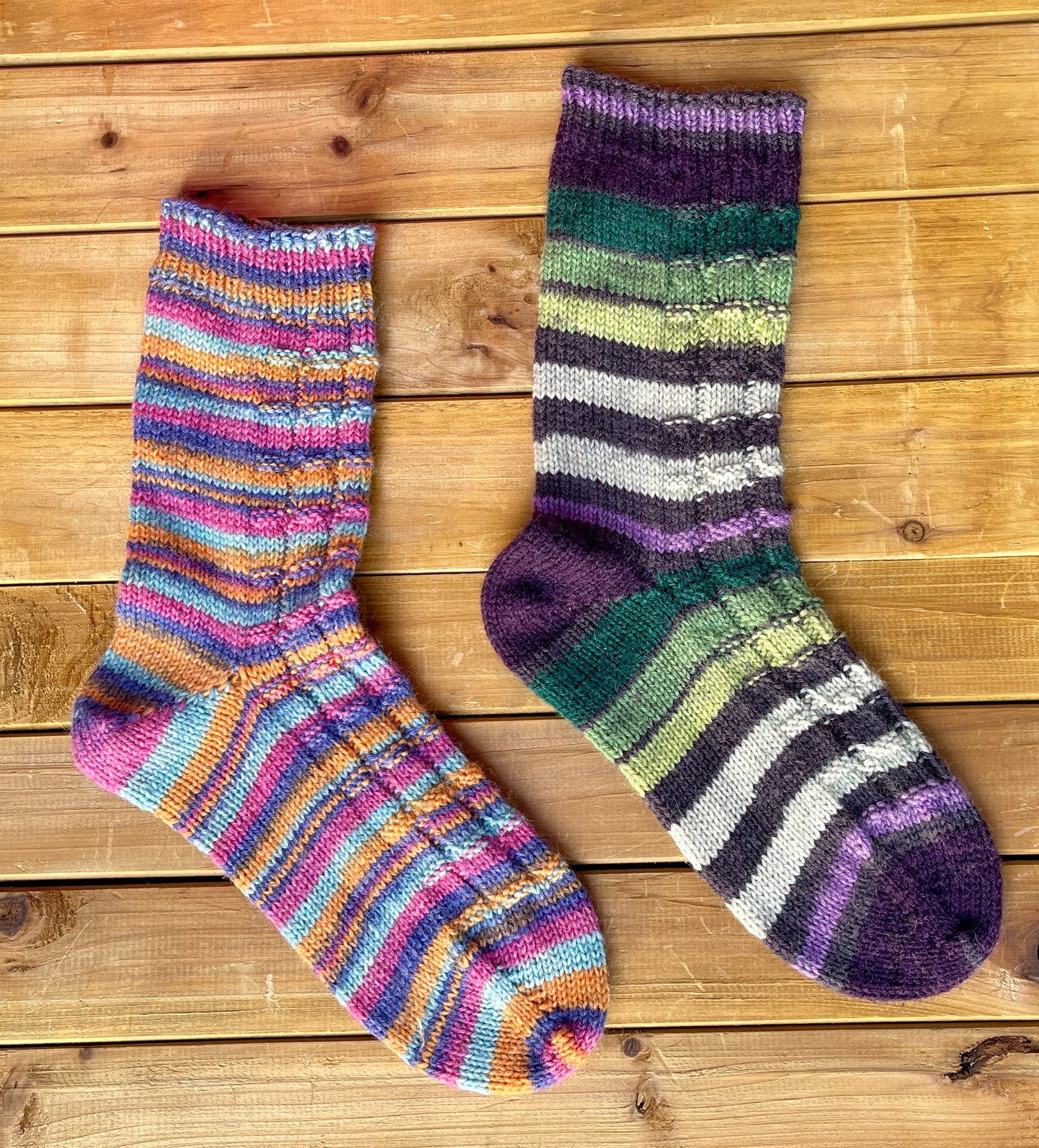 Snow Trails Socks
$6.00
The end of Fall can mean the start of snow in some parts of the world, and that certainly seems to be the case this year. While there are beautiful leaves on the ground and trees one day, it's covered with an inch of fresh snow the next. Soon the snow is tracked across by prints from critters, birds, humans, sleds, and cars.

The Snow Trails Socks are designed for those tracks made by cars on fresh snow, the tracks made by sleds, critters, and children. The tracks you come across the morning after you wake up and see that your colorful world has turned blinding white. This is created with ribbing in an easy-to-knit pattern and knits up quickly. This would be an excellent pattern for knitting a pair of thick socks for the cold months ahead.

Gauge: 7 stitches/inch using US 1.5 (2.50mm circular needles).

Sizing: 1 (2,3) - which fits a foot circumference of (unstretched) 8 inches (8.5 inches, 10 inches) around.

Yarn: This pattern would look great in semi-solid, solid, striped, and tonal yarns.

Sample Used: The ever-reliable Paton's Kroy yarn in Bramble Stripes and Kool Stripes. This would work with other Paton's Kroy yarns as they have a similar makeup and give a near-identical gauge. It's a thicker yarn that runs closer to Sport than Fingering. 166 yards, 75% wool, 25% nylon. If you're knitting Size 3 or have a long foot over US women's 10, you'll want three balls as the yardage is much less than you'll find with most commercial yarns.

Materials:

-US 1 (2.50mm) circular knitting needles (or size needed to get gauge), I recommend at least 32 inches (my preferred length). You can substitute DPNs and 9-inch circulars for circulars as well and I'll show you how.
-100 grams of fingering-weight sock yarn. The suggested yarn comes in 50-gram skeins and if you're knitting Size 3 or have a foot longer than a US women's 10 - you'll need 3 skeins.
-Stitch marker or locking stitch marker (optional)
-Ruler or measuring tape.
-Darning needle.
-Sock blockers to photograph your socks once you're done! (optional).

Notes: This pattern is written for magic loop, but can easily be changed to DPNs. Use 2 needles for N1, and another 2 for N2. If you're using 9-inch circulars, there will be notes throughout to guide you.